Construction work officially begins at Dudley Sixth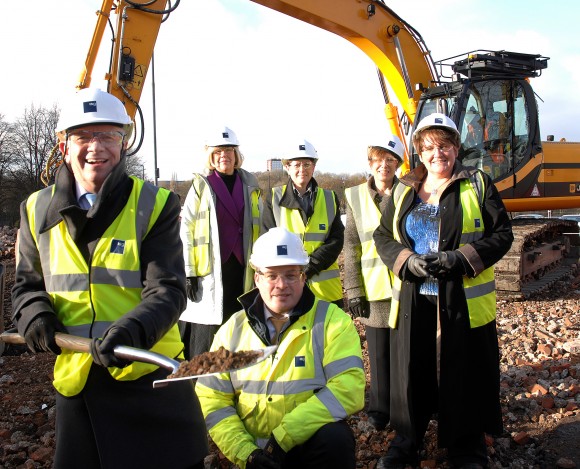 Dudley Sixth, the new A level centre in the heart of the Dudley Learning Quarter, took an important step forward this week when construction work began at the Ednam Road site. To celebrate the event, representatives from the Dudley Sixth partnership joined together in a symbolic 'turning of the first sod' ceremony. Construction of the high tech, environmentally friendly building will take nine months. Dudley Sixth will welcome its first students in September 2012.
The Dudley Sixth planning partnership has been in place for over three years. In December 2008 an agreement was made between five local schools and Dudley College to work together to develop a new state-of-the-art A level centre, for students from the north and centre of Dudley Borough, and further afield. Working together, The Cosley School, The Holly Hall Academy, The High Arcal High School, Castle High School and Visual Arts College, The Dormston School and Dudley College developed Dudley Sixth, which from next year will offer young people the best possible A level learning experience.
Stephanie Sherwood, Head Teacher from The Dormston School said: "We're delighted to be involved in the Dudley Sixth project as it gives us a unique opportunity to help young people progress onto A levels, delivered locally and in an amazing new building. The added benefit is that we can continue to offer students from our school support as they tackle their A levels. Young people need excellent qualifications these days and I'm confident Dudley Sixth will provide the right environment for all students to achieve their aims and progress on to university or into work."
"It's fantastic to see Dudley Sixth actually taking shape after all the hard planning work" explained Jo Manson, Head Teacher from The High Arcal School. "We're really looking forward to next September and the exciting new opportunities Dudley Sixth brings to the students and staff of High Arcal School."
Students from other schools across the area are being encouraged to apply soon, as places are limited and interest to date is very high. Robert Chapman, Direct of Dudley Sixth was keen to explain: "It's fantastic to have such strong links with our partnership schools who have been involved in this project from the start. But Dudley Sixth is also open to young people from other schools, in and outside the borough. We're looking for bright and motivated students who will make the most of our inspiring facilities."
Dudley Sixth will offer over thirty five AS and A2 levels in a range of different subjects, from maths to media, languages to law and sports to science, backed up by outstanding support and teaching. Dudley Sixth will also incorporate a specialist STEM Centre (science, mathematics, technology and engineering) which will provide new specialist facilities to support academic and vocational studies in the all important STEM subjects.