Double win for Dudley Sixth at Keele University Awards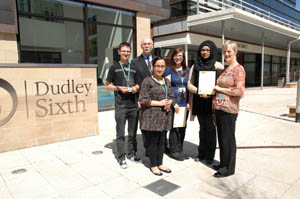 Having only been open for less than a year, Dudley Sixth A level centre is already celebrating after picking up two awards at the Keele University 'Keelelink' ceremony last night.
Kyle Homer, aged 17 and studying A Levels in Biology, Mathematics and Music, won 'Learner of the Year' and Sarah Baker, UCAS Co-ordinator at Dudley Sixth, was recognised for her role as the 'Keelelink Champion – Supporting Transition to HE'.
Now in their fifth year, the awards are the culmination of the university's 'Access to Keele' (A2K) programme which provides prospective university students the opportunity to learn about and experience higher education.
Kyle Homer, Anum Bi and Danielle Miles were the three Dudley Sixth students nominated for the A2K Learner of the Year Award. They are part of a group of 23 Dudley Sixth students who were accepted and now on target to complete the A2K scheme.
Sarah Baker, who picked up her award for 'Keele Champion', explained: "This is the first year we have encouraged our students to take part in the A2K programme, and we were delighted when three of our students were nominated. When Kyle's name was announced as winner of the Learner of the Year Award at the event, everyone celebrated as this accolade is a real credit to Kyle's hard work and dedication."
"Since the students started the A2K programme, we have seen a greater level of confidence in their own ability to achieve results. Some of our students come from backgrounds where going to university isn't necessarily the main route into work and a career, so this has been an excellent opportunity for them to see a working university and think about their own futures."
Those Dudley Sixth students involved in the Keelelink initiative have had the chance to visit the Keele campus, attend master classes in their chosen subjects and link up with Keele University students who act as e-mentors, there to answer any questions and provide a range of fun, interactive activities and resources to support future studies.
Robert Chapman, Director of Dudley Sixth, explained: "The links we have built with Keele University are delivering some fantastic opportunities and experiences for our A level students and will undoubtedly play a major role in their progression and transition to university."
"We're extremely pleased that one of our students and our UCAS Co-ordinator won awards in our first year of operation as a new sixth form. Being recognised by such a prestigious university obviously reflects the hard work Sarah Baker and the Dudley Sixth team have put into developing this link and encouraging students to take advantage of the A2K programme."
To find out more about what subjects are being offered, or to apply to Dudley Sixth, visit www.dudleysixth.co.uk or call our A levels experts on 0800 783 6095.