Dudley College and students celebrate their outstanding achievements after challenging year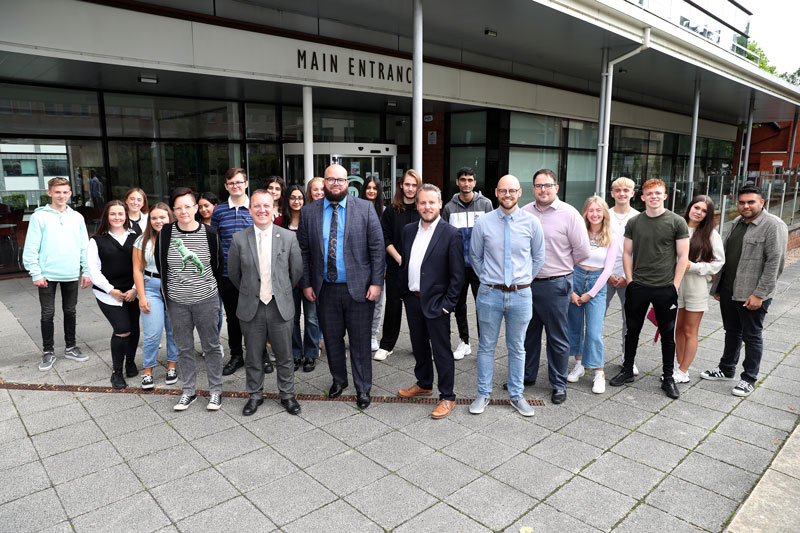 After a difficult two years in which they experienced severe disruption to their studies because of the impact of the pandemic Dudley Sixth College students are once more celebrating their A level results, with an overall pass rate of 99.8% and 100% pass rate in 31 of the 32 subjects studied, in what has been a unique year for staff and students alike.
Dudley Sixth students began their celebrations at midnight when their places at University were confirmed under the UCAS Tracker system but then had a sleepless night until they could collect their individual grades at 8am.
The national picture suggests the overall pass rate has accelerated this year with awarding bodies using Teacher Assessed Grades to determine individual final results. And the percentage of learners achieving higher grades has also risen with 89.4 percent of Dudley Sixth learners achieving grades A-C and the percentage of learners receiving A*/A increasing by almost 2% on the previous year.
College Chief Executive and Principal Neil Thomas today said he believed the use of Teacher Assessed Grades (TAGs) was a valid benchmark of an individual learners' academic ability as it wasn't just a snapshot in time like an exam. Commenting on the results he said:
"I believe the use of TAGs provides a true reflection of the students' capabilities over the full length of their study programme. Students should be confident that their grades indicate all of the hard work that they have put into their studies over the last two years which have been very challenging. Every one of our students who has contributed to these amazing results will tell you just how hard they worked, often on-line from home, in shared bedrooms or at the kitchen table whilst their parents also worked beside them. So, their grades are that more remarkable against that context. "
With more students than ever achieving higher grades A*-C with an increase from 89.1% in 2019-20 to 89.4% this year he added:
"I'm delighted that this year's results are reflecting the upward trend in high grades that the college has been demonstrating over the last five years. We pride ourselves on maximising our students potential so they can progress on to their chosen universities or continue their higher education studies with us.
This year we also have the possibility of students moving on to higher apprenticeships that will be offered from the new Black Country and Marches Institute of Technology. So, it's a really exciting time for the young people of Dudley, and we are pleased to play our part in developing their future career prospects."
Horace Dennis who oversees Dudley Sixth's A level programmes echoed these sentiments saying:
"We have shown that we are able to nurture young people and bring the best out of them in their educational attainment. In some of our subjects like Dance all learners got an A*/A – and many subjects like Economics, French and Philosophy did exceptionally well with 100% higher grades. We acknowledge it has been a difficult year but our young people and our teaching staff have risen to the challenge and have demonstrated their resilience in a way we could not have imagined."
Individual outstanding success stories include Alex McNall (aged 18) who achieved four A* in Computer Science, Maths, Further Maths and History. With no history of going to university in his family Alex never felt that higher education was for him, but with the encouragement of his mother; Helen, from the age of 12 and the support of Dudley Sixth staff during his two years at college, he is now going to St Andrews to study Pure Mathematics. Commenting on his time at college Alex said:
"I have always lacked confidence about my academic ability, but my enjoyment of mathematics has just grown over the years with the encouragement of my tutors. I found the environment at college incredibly supportive, and I even enjoyed lockdown as it enabled me to focus on my studies. I disagree with claims that it has been easy to get high grades this year because I know just how much time and effort, I put into securing my results. I'd encourage anyone to study A levels at college but not to underestimate the commitment it takes to do well."
Fellow students Myra Khan (aged 18) and Mandip Srai (aged 18) will both be pursuing higher education through two very different routes. With Myra obtaining: Business A, English Language A, Fine Art A allowing her to secure a higher apprenticeship with Microsoft. Whilst Mandip will take up a place at the University of Birmingham to study Neuroscience having secured Psychology A*, Biology A and Geography B.
Commenting on her time at college Myra said:
"I'm glad I picked Dudley Sixth as the range of subjects allowed me to pursue my varied interests which gave me time to reflect on my career options. By the end of the two years I knew I wanted to find a higher apprenticeship and after many applications – I'm now working for Microsoft; marketing X Box pursuing a higher apprenticeship in Chartered Management. It's a dream opportunity – that will lead to a degree, and a CV full of real-world experience."
Echoing this Mandip said: "College allows you to balance study and other interests too. I directed my own studies giving myself one day off to chill and enjoy myself. This way I didn't burn out and I liked the fact I was given the flexibility to self-direct my work."
She also praised the range of wrap-around support provided by the Dudley Sixth taking part in the University of Birmingham's A-B scheme which demystified access to university and encouraged her to aspire to apply.
Dudley Sixth and Dudley College are members of the Aspire to HE programme, which actively promotes widening participation into higher education.
The college is currently taking applications for September admission in A Level and vocational subjects.
For more photos from the day please take a look at our A Level Results Day 2021 Flickr album.