Dudley Sixth Students Celebrate A Level Results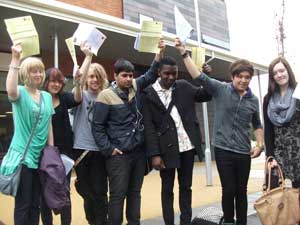 Dudley Sixth A level students are celebrating as their excellent performance over the past two years has delivered an unprecedented set of results for the college. With the majority of subjects achieving results above the national average, the class of 2013 has out-performed many other students from across the country in 21 of the 24 subjects taught as A levels.
The 100% pass rate in 20 of the 24 subjects taken is an indication that the range of A levels on offer, together with the quality of the teaching and support available, has made it possible for some students who may not traditionally have considered A levels to succeed and progress onto higher education.
With most of the students planning to progress onto university, achieving these all-important grades will enable them to study at degree level and follow a successful career path. Amongst these successful students are a number who have attained A* in several subjects including Maths, Communication & Culture, Psychology, Chemistry, Biology and English Language.
Jakub Ruszczyk, 18 from West Bromwich has scooped a phenomenal three A* grades in Business Studies, Psychology and English Language and plans to study Business at Aston University. Whilst Abbie Meacham, 18, from Oldbury has worked hard for her three grade As in Psychology, Chemistry and Biology and planning to attend Keele University to study medicine.
With English Literature, English Language and the three recognised sciences – Chemistry, Biology and Physics – amongst the subjects where students excelled, pass rates in other subjects such as History, Sociology, Fine Art, Film Studies, and Sport Studies, have once again been very successful this year.
Lowell Williams, Principal at the college explains: "We're really pleased with this year's fantastic results and to see a rise in the number of students securing good grades in the maths and science STEM subjects, as there's a national drive to increase the number of experts in these areas.
"Today's results are an indication of the value the new Dudley Sixth dedicated A level facility has brought to our students. Our investment in the purpose built development that opened last September has paid off, and we are confident that the quality and results of our A level provision will go from strength to strength.
"Everyone at the college would like to congratulate our A level students and hope their time at Dudley Sixth has given them a solid foundation on which to build a successful future and career."