Dudley Sixth Welcomes Professor Brian Cox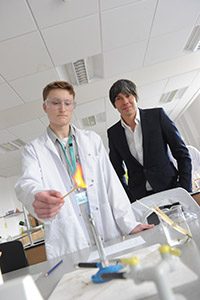 World renowned start gazer and super scientist, Professor Brian Cox OBE, visited Dudley Sixth on Friday 24 April, as part of the officially opening of Dudley Advance, Dudley College's new Centre for Advanced Manufacturing and Engineering Technologies.
The launch event focused on science, technology, engineering and mathematics (STEM) subjects, building on the government's ongoing strategies for developing a strong supply of scientists, engineers, technologists and mathematicians.
During the event, Professor Cox and Year 10 pupils from schools across the Dudley Borough, had the opportunity to engage in hands-on science and engineering fun using the fantastic new facilities and machinery in Dudley Advance and at Dudley Sixth. The professor also delivered a lecture on 'Exploring the universe through engineering and science' to the young people attending.
Activities planned for the school visitors included: operating rapid prototyping and 3D scanners, making DNA sequencing bracelets, using maths for code breaking, virtual reality welding, using electronics to build a security alarm and seeing how animals behave using maggot mazes!
Professor Brian Cox said "Joining in the Dudley Advance launch celebrations is a great opportunity for me to meet so many young people enjoying science related activities in this fantastic new training centre.
"Science is so exciting, so fun events like this are a great way to get everybody involved and thinking about the career options science, technology, engineering and maths subjects can offer.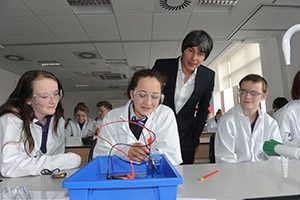 "The launch has provided an excellent opportunity for these young minds to get involved and be inspired to become the next generation of scientists, star-gazers and skilled engineers of the future."
Lowell Williams, Principal at Dudley College said "We're delighted to welcome Professor Cox to the college to launch Dudley Advance, our new Centre for Advance Manufacturing and Engineering Technologies. It's great to involve Brian in our celebrations as he's such a prominent advocate for the sciences. He'll not only make the day memorable for everybody but also help to bring science, technology, engineering and mathematics to life.
Take a look at the photographs from the event.