Top A level results for Dudley Sixth students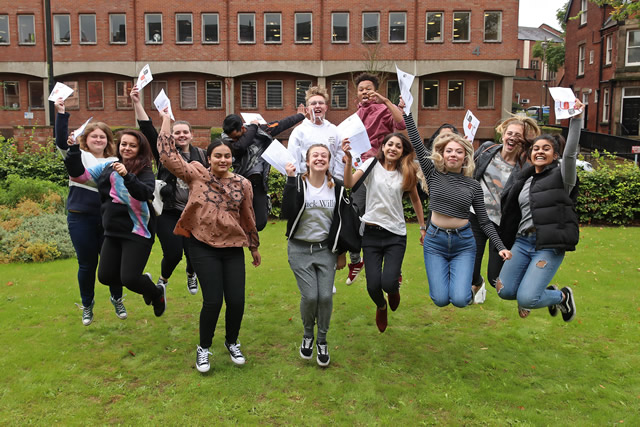 Dudley Sixth College students have again excelled in their A Level studies, with an overall pass rate of 98% showing a consistent picture with last year's results. With more than 1400 individual entries with a high percentage of them achieving higher grades.
Dudley Sixth students began their celebrations at midnight when their places at University were confirmed under the new UCAS system but then had a sleepless night until they could collect their individual grades at 8am with more than 200 students receiving individual grades at the Dudley site.
With 33 of the 37 subjects on offer at Dudley College of Technology achieving a 100% pass rate including Mathematics, Physics, English Language and Literature, Law, Psychology and. Economics Dudley College Principal Lowell Williams joined the celebrations along with students and staff from the College's 6th form. Commenting on their achievement he said:
"It always makes me proud when I see Dudley students achieving so much – I see this is the pinnacle of an outstanding year for the college, our learners and the town. I'm delighted that once more we have a 100% success rate of getting students into university or further higher study here with us. "
Individual outstanding success stories include Jeevan Judge (aged 18) who achieved A in Maths, A in Chemistry and B in Biology. Commenting on his time at Dudley Sixth Jeevan said: "Dudley 6th allowed me to study in a fashion that suited me and gave me the skills and resources to do so. I like the fact I had more than one teacher for some subjects as they taught specialist areas and I found the depth of their knowledge really challenged me. By taking up my place at Birmingham University to study for a Masters in Pharmacy I'll be fulfilling a long held ambition. My parents will be delighted!"
Fellow student Chris Jones (aged 18) who gained grade B in Mathematics, C in Psychology and C in Computing was particularly proud of his achievement as he readily admits he could have worked harder in his first year. Commenting on his progress Chris said things really came together in his second year when he started to treat his studies like a job. "In my second year at college I realised it was University or bust! So I began to put in more hours of study and treat it like a job where I worked 8.30am – 4.30pm six days a week. I'm delighted it paid off as I have secured my place at Keel University to study for a degree in Psychology."
Assistant Principal David Malone who manages Dudley Sixth's A level programmes put the excellent results down to the incredibly dedicated staff saying: "Not only do staff who teach individual subject specialisms work hard to help each student get the best grades they are capable of but all of the support staff want the very best for each student helping them with their University applications or next step into higher Apprenticeships or work."
Emily Turner (aged 18) gained a B in PE, Sociology and Communications and Culture expressing relief she said: "The waiting for results is over – now I'm on top of the world. I'll be celebrating with a pizza with my friends." Even though she could have progressed to higher study Emily has planned to take a "year-out" to earn funds to support her at university in the future and to give her more opportunity to explore work-experience. Reflecting on her decision Emily said: "I'm aiming to pursue a career in Physiotherapy in the future but want more time to make sure that's the right path for me. I want to make sure any investment I make is well spent. I believe my time at Dudley 6th has given me the confidence to make these mature choices and has developed me as a whole person not just a study machine."
By way of contrast Manpreet Kaur (aged 18) who secured a place at the University of Birmingham to read Law with an A in Law and B's in Sociology and English has chosen to immediately continue her academic studies. "I just want to keep on studying." she said. "The teachers at Dudley are inspirational and the learning environment is great too, because it has something to suit everyone. If my university experience is half as good I'll be delighted." The 18-year-old from Tividale added: "The variety of courses also means you get to do what you enjoy most. I absolutely love Law and was happy to have the chance to study this along with other my other subjects."
Dudley College is currently taking applications for September admission in A Level and vocational subjects. Higher education courses are also available at the college. Students who are interested in joining should telephone 0800 783 6095 for further information or visit www.dudleycol.ac.uk.