Top A level results for Dudley Sixth students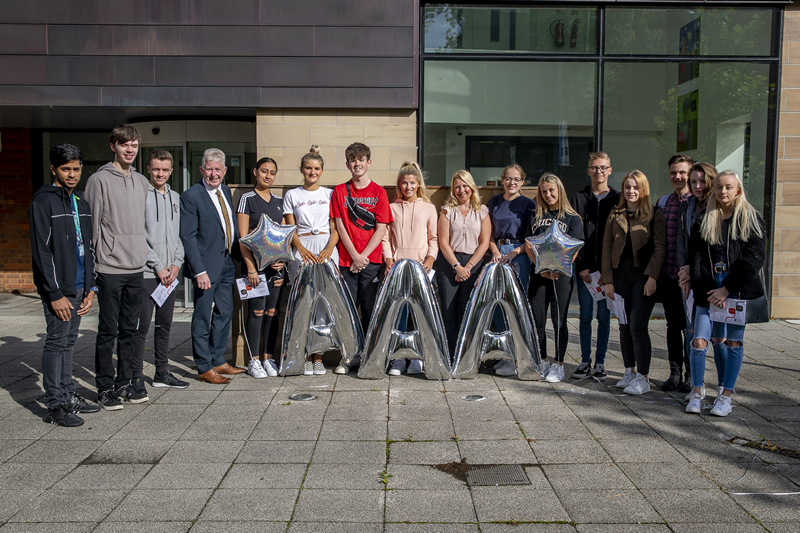 Dudley Sixth College students have again excelled in their A Level studies, with an overall pass rate of 99% – part of an upward trend for the college's results over the last three years. With more than 1400 individual entries the number of students achieving the highest grades also increased with a 75% pass rate at grades A*-C, a 7% increase on the previous year. The value added score for the college (an assessment of the performance of each student at the end of their studies in comparison to their starting point) also looks likely to rise in line with this top performance, placing Dudley Sixth in the top performing colleges for A level provision nationally.
Dudley Sixth students began their celebrations at midnight when their places at University were confirmed under the UCAS system but then had a sleepless night until they could collect their individual grades at 8am.
With 28 of the 33 subjects on offer at Dudley College of Technology achieving a 100% pass rate; including Further Mathematics, Physics, Biology, English Language and Literature and Law. Lowell Williams, Chief Executive Officer, Dudley College of Technology /Chair of the Board of Dudley Academies Trust joined the celebrations along with students and staff from the College's 6th form. Commenting on their achievement he said:
"These are a really strong set of results, that demonstrate we are supporting our students to achieve their maximum potential. I'm delighted that so many of our students are now able to secure their higher education and higher apprenticeship places both with us and a range of top universities nationally. Thanks to their hard work and the support of our staff Dudley Sixth students have achieved great things."
Individual outstanding success stories include Rebecca Weaver (aged 18) who achieved A* in Maths and Physics and A in Chemistry and Further Mathematics. Commenting on her time at Dudley Sixth Rebecca said:
"I'm delighted with my results Dudley 6th gave me the skills and personal confidence to believe I could do well so I'm chuffed that I have repaid the faith my teachers had in me. By taking up my place at Cardiff University to study Astro Physics I'll be fulfilling a life- long ambition as I've been obsessed with the stars from an early age."
Fellow student Mary Cassell (aged 18) who gained grade A* in Biology, A in Chemistry and A in Accounting was particularly proud of her achievement citing the support of her teachers as the reason she did so well. Mary is now going to Warwick University to study Chemistry which she hopes to lead to a career in medical research.
Assistant Principal Lisa Stevenson who manages Dudley Sixth's A level programmes put the excellent results down to the incredibly dedicated staff saying:
"We have an extremely dedicated team who work hard to support all of our learners. This year we have introduced a new positive mind-set approach and placed more attention on exam preparation, which seems to have paid off, with such a pleasing set of results."
Ryan Worsfold (aged 18) gained an A in Psychology, and B in Chemistry and Mathematics expressing relief he said: "The waiting for results is over – now I'm on top of the world. I'll be celebrating this evening with my friends."
Fellow student Ruhal Amin (aged 19) who secured a place at the University of Birmingham to read Mathematics with an A* in Mathematics. A is Further Maths and two B grades in Chemistry and Physics said "The teachers at Dudley are inspirational If my university experience is half as good I'll be delighted."
Dudley College is currently taking applications for September admissions. Higher education courses are also available at the college. Students who are interested in joining should telephone 0800 783 6095 for careers help and guidance. We are open for clearing for all of our HND and Foundation Degree courses.
For more photos from the day please take a look at our A Level Results Day 2019 Flickr album.